Φ65 silicone rubber extruder line



Ⅰ, the machine components are as follows:
| | | | |
| --- | --- | --- | --- |
| No |       Item | Quantity | application |
| 1 | Φ400—Φ630mm dual head tension pay-off | 1 set | Pay off wire |
| 2 | Straighting platform (with tool kit) | 1 set | Straighten wire |
| 3 | Φ65 silicone rubber extruder | 1 set | Extrude plastic |
| 4 | Laser Diameter tester | 1 set | Test wire dia |
| 5 | High speed printer | 1 set | Print letter |
| 6 | Electric appliances , temperature control cabinet | 1 suit | Control process |
| 7 | 16m vulcanization bake box | 1 suit | Vulcanizate wire |
| 8 | 600mm Double wheel capstan | 1 set | Tract wire |
| 9 | 9m horizontal tension wire accumulator | 1 suit | Accumulate wire |
| 10 | 15KV high frequency sparker | 1 set | Test wire quality |
| 11 | Electric meter counter | 1 suit | Count meter |
| 12 | 400-630mm Double spool take-up machine | 1 suit | Take up wire |
| 13 | Spare parts | 1 suit | |
| 14 | Tool | 1 suit | |
| 15 | Machine data | 1 suit | |
Ⅱ.application:the machine is suitable for extruding silicon rubber cable, easy to operate, high reliable.
Ⅲ component brand:
Motor:Siemens motor
Inverter :Japanese YASKAWA inverter
Temperature controller: RKC, PID type
Electric apparatus:Schneider
PLC: Siemens color set
Ⅳ.Main specifications and performance
1. finished OD: φ1.0-φ8.0mm
2. Extrusion output: 70kg/h, the machine cross head is open.
3. Wire speed: it is according to the wire diameter V.max≤200m/min
4. Center height of machine: it is from the ground.
5. Power supply: , 50HZ,76.5KW
6. Color:cabinet use white.others use light blue, or based on customer request.
V. The main technical parameters and configuration
1.430-630MM dual head tension pay-off
1-1.suitable bobbin diameter:400-630mm , shaft through type
1-2.pay-off tension:eccentric structure adjust tension automatically,machine stop automatically when wire breaks,
1-3.brake disc:220mm
1-4.pay-off dimension:700mm*1400mm*400mm
1-5.pay-off roller: 600mm*40mm, surface is plated by hard chromium
1-6.pay-off pulley wheel:80mm ceramic wheels.
2. Straighting platform
2-1.wheel:there are 5 wheels and 3 troughs , wheel diameter: , hard chromium plated surface.
2-2.dimension: it is assembled and welded with the steel plate.
3. ¢65 silicone rubber extruder
3-1. frame:welded with A3 steel and H steel
3-2.gear deceleration box:it is modeled on the Italian 173-10
      A. the square gearbox is cast formed with annealing treatment, and the material is
B. the tooth surface of gears is high-frequency quenched and polished accurately , the noise index is less than 75db, the gears are lubricated with the oil force.
3-3. Screw : one piece of silicon rubber screw of φ65mm. ,L/D of screw is 12:1,compression ratio 1.4:1) and the material is . The hardness is more than HRC82, the nitrogenization depth is , its surface is hard chromium plated; the rotational speed is10-60rpm; the extrusion capacity is 70kg/h (Max) (cross head is open).
3-4. Screw barrel: it is one-piece type from the gearbox junction to the machine head. Double layer structure. Circulating water cooling system temperature control material.internal layer material is ,and the hardness is more than , the nitrogenization depth is , surface hardness HRC85, outside layer water cooling structure is made of 45#steel .barrel diameter:φ65mm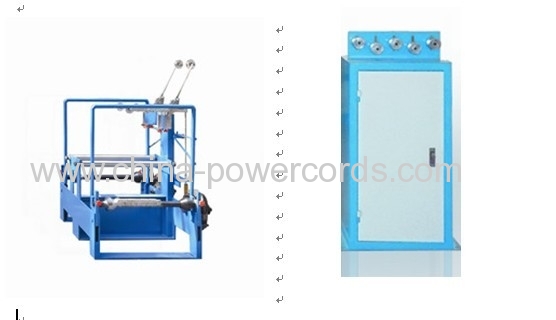 3-5. cooling:screw barrel circulation water cooling
3-6. main motor drive:AC380V15KW Siemens motor +AC380V15KW Mitsubishi inverter control
3-7. feeding material:pressure structure.which is double roller squeeze automatic feeding
3-8 machine head:adopt adjustable water cool structure , material :40Cr,quenching tempering process HB260-280.vulcanize surface is plated by chrome.
4. laser diameter tester
4-1.origin:SHAGGHAI
4-2.precision:±0.003mm
4-3.range of wire diameter:0.1-20mm
4-4.control:automatically feedback-control main motor speed to ensure the setting range of wire diameter.
5. high speed printer
5-1.printing-wheel :outer diameter: ,inner diameter:¢20mm.Max width:25mm.
5-2.power: stirring (single-phase 220v25W).Max .printing speed 350m/min,printing quality are suitable for UL.CSA.VDE.JLS requirements.etc.
5-3.ink-box:stainless steel material,with 2 pieces
5-4..ink capstan-wheel ,printing on the surface of cable through the ink scraping device.
5-5.center height:1000mm
6. .electric appliances,temperature control(imported electric appliances)
6-1.total power switch 3 P380V
6-2.control power switch3 P380V
6-3.control power2 P380V
6-4.control power2 P220V
6-5.point current voltage meter
6-6.breaker
6-7.SSR smart type auto control heating
6-8.overload protection for motor
6-9.tension rack tension control and deflection inspect control
6-10.indicator light for each part and spotlight inside and outside control box
6-11.ventilator for control box
7. 16m stainless steel heat oven


7-1 .vulcanize pass structure is open type, inside layer is stainless, outside is steel board ,use asbestos insulation material to keep warm
7-2. the length of vulcanize pass is 16m, 4m/section,voltage 380v,per section 12kw.heating by electric heating tube.temperature control meter is installed on the control cabinet ,easy to operate
8. 600mm double-wheel capstan machine
8-1.machine rack:it is assembled and welded with A3 steel plate and channel steel.
8-2.capstan wheel:material:aluminum alloy ¢600mm,total in 2 pieces.
8-3.deceleration machine----------------WEIZHENG BRAND
A.type:four-shift speed governor
B.can change fast,medium,slow stalls according to the size of wire dia to suit for the extrusion use.
8-4.dragging :AC380V4KW Siemens motor with AC380V4KW Mitsubishi inverter,suitable for the extrusion application of different wire diameter.
8-5.line speed:V≤400m/min,It is coordinated action control with main motor.
8-6.dropping wire:dropping bucket device.
8-7.stainless steel seal water box, with window water wiper for one unit.
9. 9m Horizontal tension wire accumulator
9-1,Frame: assembled and welded with Steel plate
9-2.track:125mm*125mm,horizontal length:9m
9-3.Power:1HP reducing-speed motor----------------TAIWAN WANXIN BRAND
9-4.Tension:With 5Kg magnetic powder clutch------WEIZHENG Brand
9-5.wire-accumulating length:10m-200m
9-6. accumulating-wheel dia and material:aluminum alloy,
Wheel dia: Φ300mm, number of wheels:11+12 wheels
9-7.tension adjustment:tension can be adjusted by tension control-cabinet DC-24V power.the vehicle can be controlled in both ways .the meter indicates tension.synchronous device can automatically control the take-up speed to avoid overstretch or breaking on the wire.
9-8.safe device:the limit switch are laid at the front and back end.
The machine stops at the same time when wire breaking .
9-9.anticollision:compression spring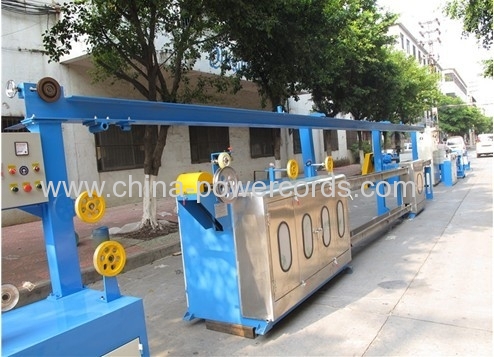 10.15KV high frequency sparker machine
10-1.application:It is applied for the pressure-resistance test under the condition of on-line movement of electric wire and cable.
10-2.range of outer diameter: 4.0-15mm
10-3.testing voltage: ,high-voltage frequency:
10-4.output indication:5 digit LED spark counter
10-5.testing room length:600mm
10-6.Max ampere:0.667mA
10-7.alarm output:LED Alarm indication.the coupled alarm and automatic-stop with coiler can be selected.
10-8.be suitable for JAPANESE,USA,EUROPEAN Standards or CHINESE Great wall certification
10-9.testing speed:1000m/min
11.electronic meter counter
11-1.electronic induction type meter-counting:anti-regressive function.
11-2.floating type meter-counting wheel:elastic contact on both sides.both meter-counting wheel and pinch roller have spring to support.can float with shake of cable,reduce the slip ,improve the precision of meter-counting.
11-3:meter-counting length: 0-999999m
11-4. precision level:0.1%
11-5.meter-counting factor :can be adjustable,can set the meter-counting factor according to different size of wire dia,material. To improve the
Meter-counting precision
.
12.400-630mm double-spool take-up machine.
12-1.suitable: 400-630mm reel style and bobbin style ,line speed v≤400m/min.
12-2.machine rack :it is assembled and welded with channel steel and A3 steel plate.
12-3.motor:AC380V2.2KW motor+ AC380V 2.2KW transducer and tension rack.with deflection detector can automatically


control take-up speed.
12-4.meter-counting :6 digit electronic meter-counting. with the feature of automatic-stop.
12-5.traversing:it is polished rod bearing type control traversing.the pitch and range of traversing can be adjustable.it is coordinated action with take-up speed.
12-6.attachment:with 2 suits of take-up bakelite-axis plate and axis clamp,and 2 suits of long and short axis are provided.
Ⅵ. Accessories:
A:tool kit--------------------------------------------------------------------1 pieces
Scissor-------------------------------------------------------------------1 piece
Hexagonal wrench--------------------------------------------------------1 suit
Screw driver--------------------------------------------------------------I suit
Monkey wrench-----------------------------------------------------------1 piece
B;spare parts:
Die ---------------------------------------------------------------2 sets
Stainless steel honeycomb board----------------------------------1 piece
Thread pin--------------------------------------------------------2 piece
Base and fix screw------------------------------------------------1 lot
Spare parts:
Crosshead heater
Machine neck heater
Barrel heater
C:data with machine
Installation drawing, circuit drawing, manual