Equipment distribution and technology asked
Machine type: 65 mm type PLC digital type main silicone cold feed extruder equipment
configuration and technical parameters
Equipment use
The equipment is suitable for the silicone wire extrusion.
One, the main specification
Types:
1. The manufacturing line for the silicone wire extrusion.
2. Out of Material: silica gel.
3. The conductor wire diameter: 1.0 ~ 6.0 mm Ф Ф. (wire diameter size should be equipped with corresponding die)
4. Suitable for wire diameter: 1.5 mm ~ 8.0 mm Ф Ф.
0.5 ~ 10 square
5. The biggest wire speed: 0 ~ 300 m/min (linear velocity depends on wire diameter).
6. The center height: 1000 mm.
7. Electrical source: 380 v + 10%, 50 hz three-phase five wire system
8. Operating direction: host (from to)
9. The machine color: the machine appearance: apple green; The light blue.
Electricity box appearance, with the whole machine; Grey Pantone7527U corrugated paint.
Security color: yellow. According to customer's requirement (color)
Second, the main components: production
1. Double motorized a Thai company
2. Heating type of powder machine a Thai is firm
3. Copper wire straightening machine a set of Thai company
4. 65 mm silicon host + cold feeding machine a Thai is unified company + Taiwan
5. PLC computer control system is a tiger company + imports of electrical appliances
6. 18 m sulfur flower box a group of Thai company
7. A laser measuring diameter instrument a letter Shanghai sheng
8. High speed printer a Thai company
9. Tension store line wearing a Thai company
10. Enclosed double leading machine a Thai company
11. The electronic meter table a Thai company

12. Power frequency spark a Thai company
13. The line in biaxial machine a Thai company
14. Random spare parts and operation and maintenance manual: a Thai company
Four, technical parameters and structure of major parts of description:
1. Double motorized
A. passive pay-off for coil Φ 500-630 - mm (line plate specifications according to customer's requirement).
B. a shaft tension pay-off, adjustable tension, to ensure that the constant tension when the pay-off.
C. tension automatically adjust and equipped with brakes.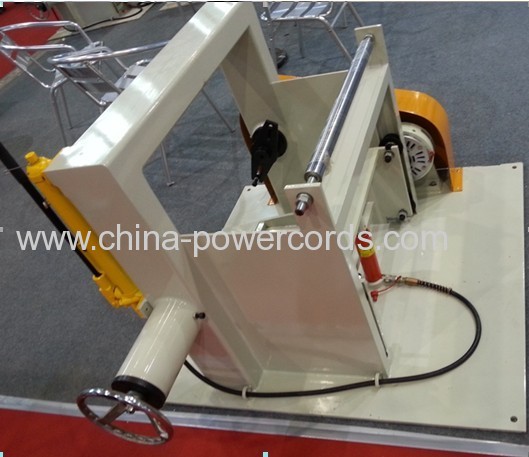 2. Heating type powder machine
A. the power: 60 w; 1:6 0 Taiwan geared motor.
B. heating power: 2 kw.
C. with temperature control table, ammeter, voltage meter.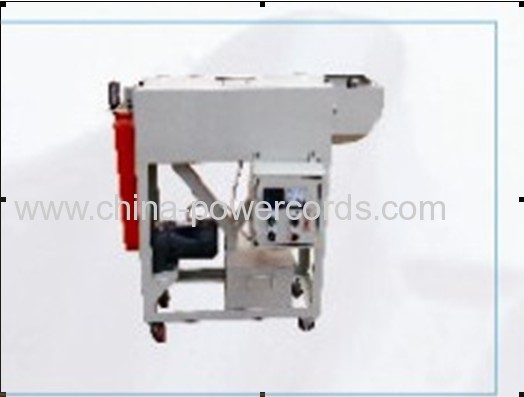 3. Copper wire straightening machine
A. pay-off straightening, can according to need to be adjusted up and down.
B. three rounds of five groove straightening. The whole line diameter is Ф 1 ~ 10 mm Ф.
C. pay mould toolbox, the center height 1000 mm.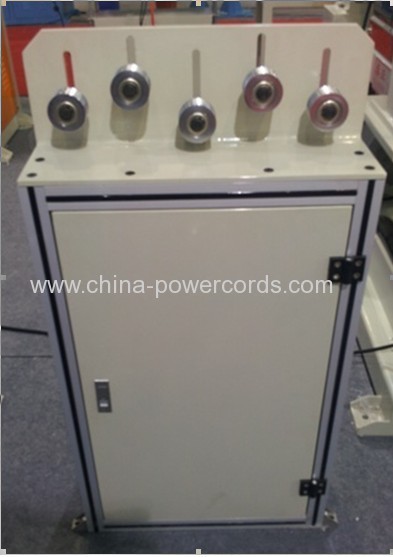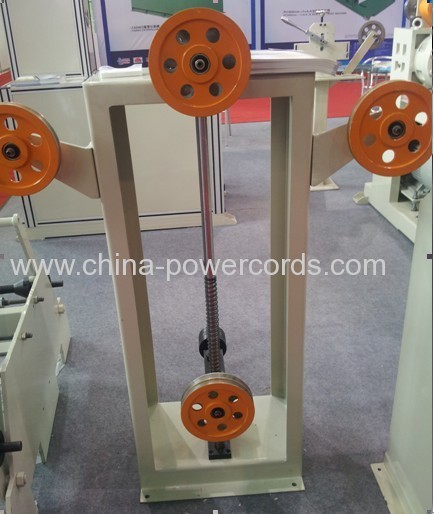 4. 65 silicone host
A. the screw parameters:
A. diameter: 65 mm Ф special silicone extrusion screw one branch.
B. materials: the 38 crmoaia alloy steel, b/M type, the whole tooth nitriding treatment, surface hardness HV950 above, its characteristics have a large amount of extruding, plasticizing degree is 100%.
C. length to diameter ratio: 14:1.
D. speed range: 0 ~ 30 RPM.
E. extruding: 0 ~ 60 kg/H.
B. the screw cylinder parameters:
A. material: using SACM chromium manganese alloy steel, aluminum nitride processing, precision grinding, in cylinder screw cylinder inner surface hardness is higher than the screw thread surface hardness peak R2 and R3 degrees.
B. 15 HP equipped with SIEMENS (SIEMENS) motor.
C. unit center height 1000 mm.
C. reducer:
Reduction gear box by precision grinding, mandatory for lubrication and cooling, resistant to abrasion, low noise characteristics of special 65 machine.
D. cooling:
Add water to cover, fuselage by circulating water cooling.
F. the nose and mold + vacuum machine
A. silicone machine with special adjustable head a (pay 1 set of mold, provide size).
B. the new lock type flange, tear open outfit is convenient and quick.
C. copper wire into the line equipped with vacuum machine
G. host and feeding move
Host level 15 hp6 equipped with Germany's SIEMENS (SIEMENS) motor, 15 HP American EMERSON (EMERSON) inverter control, speed adjustment is convenient, running stability. Gear motor feeding machine adopts 750 w, 750 w American EMERSON (EMERSON) inverter control, convenient speed regulation.
5. PLC digital type main control system
A. power: 380 v + 10%, 50 hz three-phase five wire system.
B. the main control operation box, including single action and automatic control
A. PLC man-machine interface type computerized control, PLC as German SIEMENS (SIEMENS), light touch touch screen control, humanized design, operation is very simple and convenient, in the state of production, the touch screen can display data: / host speed/line speed/host the actual number of temperature/qualify m/set on the number of meters/real qualification in meters/data, such as production of automatic monitoring, improve the quality of wire rod to the greatest extent, the whole machine adopts the full variable frequency control, greatly reduces the energy consumption, at the same time to ensure the stability of the whole production line
A. speed control: host USES 15 HP German SIEMENS (SIEMENS) motor drive, frequency conversion control, speed adjustment is convenient, the host running stability.
B. the leading 5 HP EMERSON (EMERSON) frequency conversion governor in the United States;
C. temperature control: the machine 14 period of temperature control, digital display temperature controller for the PID automatic control. 0 ~ 399 degrees set automatic control.
D. ammeter and voltmeter, laser measuring diameter instrument remote displays.
E. digital: host motor tachometer, the leading motor wire speed table; Electrical main components adopt Taiwan or day
F. all machine controller: using Japan's MITSUBISHI (MITSUBISHI) leakage protection switch, contactor, air switch, Taipei (Taiwan), intermediate relay for Japanese OMRON (OMRON).
G. ac motor as German SIEMENS (SIEMENS), frequency converter for the United States EMERSON (EMERSON).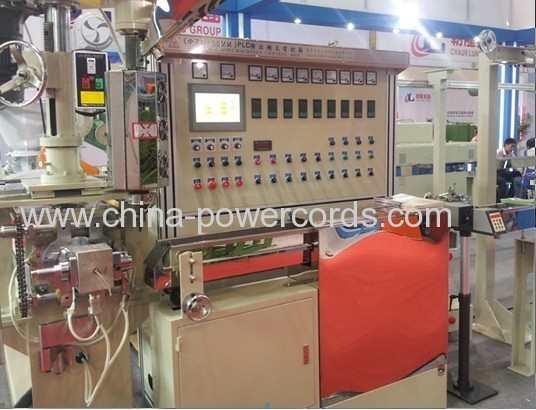 6. Curing oven
A. the whole curing oven 18 m in length, oven by quality cotton insulation heat preservation.
B. every 3 m a, a total of 6 pieces. Each segment has independent accurate temperature control.
C. by hair heat pipe heating oven, each a curing oven temperature can be adjusted separately.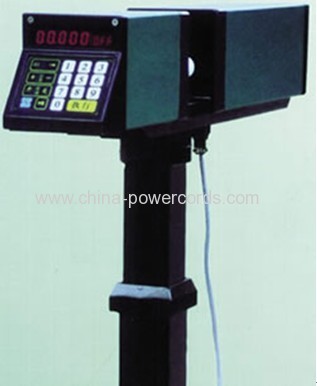 7. A laser measuring diameter instrument (Shanghai sheng letter)
A. caliper range 0 ~ 20 mm, caliper scanning frequency 5000 times per second.
B. non-contact testing, diameter measurement precision of plus or minus 0.002 mm.
C. caliper gauge to setting and display instantaneous value of the wire diameter.
D. caliper gauge with feedback device, can control the extruder screw rotational speed in fixed wire diameter.
E. remote display device is installed in the main electric cabinet, to facilitate equipment operator control of the wire diameter.
8. High speed printer
A. lettering top speed above 300 m/min, lettering beautiful and clear.
B. : cooperate with diameter from 85 ~ 100 mm lettering round use.
C. applicable wire diameter: from 0.65 mm ~ 12 mm.
D. when high speed printing ink will not splash out, less volatile solvent.
E. printing quality conform to UL, CSA, VDE, JIS, T - MARK, etc. Series of standards.
9. Tension wire frame
A. made of H steel smooth sliding orbit, 9 meters in length, and equipped with gear motor 3 HP three-phase.
B. store line 0 ~ 200 meters, store line wheels Ф 250 mm.
C. 10 kg of magnetic powder clutch to control tension and take-up machine linkage, closed linear velocity as line storage rack store of line length and adjust themselves.
D. transmission wire rope, chain part with security guard.
10. Enclosed the leading machine
A. lead extruding and interlinkage.
Ф b. double aluminum wheel drawing, wheel diameter 318 mm. Lead tension type wheel, wheel diameter 180 mm guide wheel can be directly fall barrels.
C. closed stainless steel tank body (with blower group 1).
D. 5 HP American EMERSON (EMERSON) inverter, equipped with 5 HP German SIEMENS (SIEMENS) motor.
E. the leading speed: 0 ~ 500 m/min.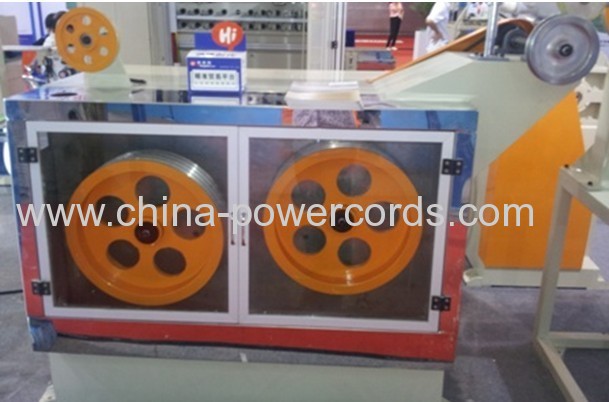 11. The electronic meter
A. meter wheel and roller are one-way bearing, wire can only forward not backward, the meter is accurate.
B. the electronic meter in order to improve the meter accuracy.
C. meter wheel surface electroplating, pressure wheel with lugs, ensure no wire pressure loss.
D. meter length: 0 ~ 999999 meters.
12. Spark tester
A. lines of largest size: 20 mm.
B. electric voltage: 220 v.
C. check electric pressure measurement: 0 ~ 15 kv.
D. maximum load current: resistive 4 m A -- -- -- -- -- -- -- -- -- -- capacitive 40 m A.
E. output frequency rate: 3.0 KHZ.
F. electrical very long: 800 mm.
G. optimum use wire speed: 0 ~ 500 m/min.
13. The line in biaxial machine
With a. style: shaft with dual-use, direct take-up knitting factory, (looped plate size is provided by the customer).
B. motivation: 5 HP German SIEMENS (SIEMENS) motor.
C. : rows of polished rod line device, and the reservoir plane linkage.
D. control: 5 HP American EMERSON inverter (EMERSON).
E. meter: automatic meter, automatic stop to m.
F. operation control box.
G. for spool (please provide the following size)
Outside diameter tube diameter hole wide wide pin hole center distance
Ф 400
Ф 500
Random
14. The supplier provides the following tools and spare parts
Name the unit quantity remark
Kit 1
Allen wrench set 1
The nose clip 1 special spanner
Round nut wrench, 7 inch adjustable wrench to 1
Scissors, needle nose pliers to 1
Die set of 1 buyer provide wire diameter size
1 + word screwdriver
Neck, nose clip and eye mould heater, each 1 set
The nose fever plate set 1
Operating instructions 1

Remark:
1. The supplier shall provide data and documents: (ab binomial within 7 working days after signing a contract to provide; other machine attached)
A. a full set of equipment installation plan. : (equipment covers an area of 22 meters long by 4 meters wide)
B. the interface requirements of water, electricity, gas and supply consumption. (enter equipment electric cabinet of wire
A. the interface requirements of water, electricity, gas and supply consumption. (enter equipment using 25 square gb electric cabinet wires)
B. equipment consumables and wearing parts list, brand and producing area, damageable parts provide detail drawings.
C. control and electrical parts specification, type list, inverter operation instruction.
D. electrical schematic diagram, product manual, final inspection standard book, machine operation and maintenance manuals.
E. packing list.
1. The supplier shall provide the cases after the account services: (machine)
A. the supplier to send to assist installation, adjustment and commissioning.
B. the supplier guide the buyer's technical personnel operating the machine.
2. The buyer shall provide the facilities and preparation work: (/ machine to complete)
A. foundation and matching power supply, water and compressed air pipe and related projects.
B. other interface equipment not listed above.
C. trial use of raw materials, materials and product testing, and inspection.
3. The other
If outside of China ,buyer need machine install,the buyer has to pay all charges for our technical personnel from supplier,such as Visa ,hotel,transportation costs,ect.