We are offering our customers an excellent quality range of ALCI plugs,. These are manufactured from qualitative range of raw materials, which is quality checked by our team of experienced professionals. We offer these ALCI plugs,at most competitive prices.

Appliance Leakage Circuit Interrupter:

Features:
1) ALCI-10-1,ALCI-15-1 type earth leakage protection plug are designed
specially for personal security protection
2) There is a circuit breaker in the cute plug, when the leakage or shock occurred,
the plug would cut off the circuit automatically and avoid the incidents such
as personal injury, fire from happening
3) Plug is designed and manufactured according to the U. S. A UL943B, China GB6829-
1995 or other relevant standards, which has separately passed UL certification
and 3C certification
4) High sensitivity, short response time, strong anti-interference, surge shock
resistance, small size, compact structure, high reliability, outstanding performance
and cute appearance
5) The plug is applicable for all kinds of electrical appliances, such as electric
warmer, hair dryer, electric cooker, electric water heater, washing machine,
dust collector

Specifications:

1Rated Voltage:120V, Frequency 60Hz;
2Rated Current:
ALCI-15-1 15A;
ALCI-10-1 13A(or 10A8A or below According to line side terminals);
3Leakage protection current:When leakage current is 4mA,does not trip;When leakage
current ≥6mA,do trip.
4\Tripping delay:When leakage current is 6mA≤5.6S;204mA≤36.1ms;
264mA≤25mS;550mA≤1.68mS;
5Voltage withstand:When tripping Voltage between blade and the line side terminal≥1500VAC,
Voltage between pole and aluminum foil≥4000VAC;
6\Voltage surge immunity:6000V;
7\Endurance times:3000 times;
8\Length of the power lead:6 feet(1.83m) or according to request;
9\Model of the power lead:
ALCI-15-1: 15AWG, 16AWG for 15A
ALCI-10-1: 16AWG for 13A; 17AWG for 10A;18AWG for 8A.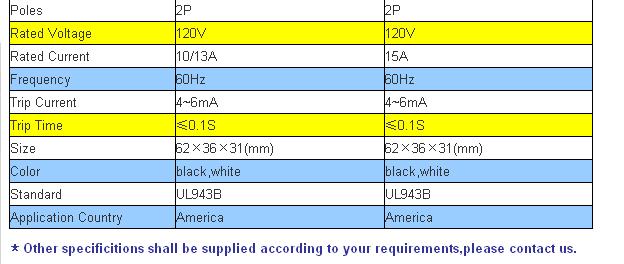 s